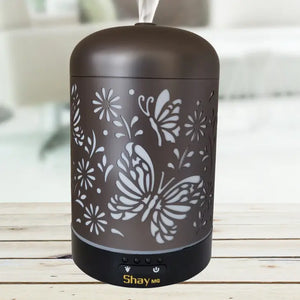 This diffuser's metal hood is beautifully finished to give it an elegant look. It will decorate any bedroom, lounge, hallway, office or spa. Enjoy relaxing Aromatherapy by adding a few drops of essential oils (not included) to create a soothing and therapeutic atmosphere.
The fine mist moistens and refreshes the air indoors which helps reduce dryness in the eyes, throat and skin. It is also known to clear dust, air pollutants and unpleasant odors from the air indoors.
The color changing LED lamp creates a wonderful tranquil ambience to enjoy. Light can be fixed to one color. Can be used as a lamp or/and diffuser humidifier. Auto Switch off when water tank is empty.
Timer with 1hr/3hrs/5hrs setting.
200ml water tank capacity.
Can run up to 7 hours. Easy to clean.
Dimensions: Height: 17.5cm, Diameter: 11cm.